This ZBook Studio x360 features a 15.6" IPS display with a UHD 4K 3840 x 2160 screen resolution, LED backlighting, a 16:9 aspect ratio, 400 cd/m2 brightness, a 1200:1 typical contrast ratio, a refresh rate of 60 Hz, 282 ppi, and viewing angles of 85/85/85/85°. The display also features multi-touch functionality, allowing you to utilize the touch gestures and functions in Windows 10 Pro to further improve accessibility and productivity, and is protected by Corning Gorilla Glass 3. The dedicated NVIDIA Quadro P2000 graphics card has 4GB of discrete GDDR5 RAM and delivers a sharp, clear picture. You'll be able to output video to an external display at resolutions up to 5120 x 2880 using the system's HDMI 2.0 and dual Thunderbolt 3 ports, the latter of which supports DisplayPort 1.3.
This system is powered by a 2.3 GHz Intel Core i9-9880H Eight-Core processor, which allows you to run multiple applications simultaneously. If you need more power, the system can be overclocked to 4.8 GHz using Intel Turbo Boost 2.0 technology. The 32GB of 2666 MHz DDR4 RAM helps to ensure smooth multitasking and also allows the computer to quickly access frequently-used files and programs. For storage of your files, this ZBook Studio x360 is equipped with a 1TB NVMe PCIe M.2 SSD.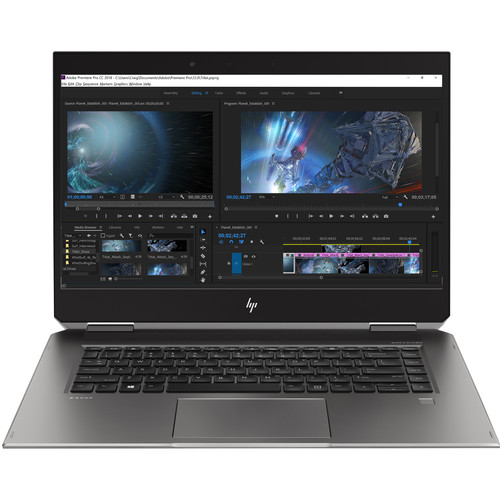 If you want to add external storage, optical drives, memory card readers, and more, the ZBook Studio x360 offers two 40 Gb/s Thunderbolt 3 ports that also support 10 Gb/s USB 3.1 Gen 2 Type-C, plus two USB 3.1 Gen 1 Type-A ports, one of which doubles as a charging port. 802.11ac dual-band Wi-Fi is built-in for wireless networking and Bluetooth 5.0 technology will allow you to connect additional compatible peripherals. Content from memory cards may be accessed via a built-in SD/SDHC/SDXC card reader that supports UHS-II media, and other integrated features include a user-facing 720p IR webcam for face authentication with Windows Hello, dual-array microphones, and dual stereo speakers custom-tuned by HP and Bang & Olufsen.
HP's 15.6" ZBook Studio x360 includes the ZBook Studio x360 pen with a USB Type-A to Type-C charging cable, four POM and six Elastomer replacement nibs, and a replacement tip tool, Windows 10 recovery media, a 150W Slim Smart AC adapter that supports HP Fast Charge and operates using 100-240 VAC at 47-63 Hz, plus an HP Long Life 6-cell / 95.6Wh lithium-ion polymer prismatic battery that lasts for around 10 hours before recharging is required, and typically recharges in 3-5 hours. The installed operating system is Windows 10 Pro (64-bit) and protection is provided by a limited 3-year warranty.
360° Pro Performance
Finally, a convertible laptop designed to tackle large files and run multiple apps with speed and responsiveness, allowing you to seamlessly edit or render high-res images.

Precision-Crafted Versatility
With HP's 360° hinge, you'll get the comfort of a laptop, the convenience of a tablet, and the luxury of additional modes to help you showcase your work.

Pixel-Perfect Tools
Achieve inking precision with 4000 levels of pressure sensitivity and tilt with the included ZBook x360 pen.

Thunderbolt 3

Thunderbolt 3 is a hardware interface that utilizes the reversible USB Type-C connector. Doubling the speed of its predecessor, Thunderbolt 3 features a maximum throughput of 40 Gb/s when used with compatible devices. The connector also transmits data via USB 3.1 at up to 10 Gb/s, and dual-bandwidth DisplayPort 1.3 allows you to connect up to two 4K displays simultaneously. Additionally, you can daisy chain up to six devices from a single Thunderbolt 3 port.

USB 3.1 Gen 1 Type-A Ports

This ZBook Studio x360 features two USB 3.1 Gen 1 Type-A ports that will allow you to connect external peripherals such as additional storage, optical drives, printers, memory card readers, and more. One of these ports also doubles as an always-on charging port for compatible USB devices.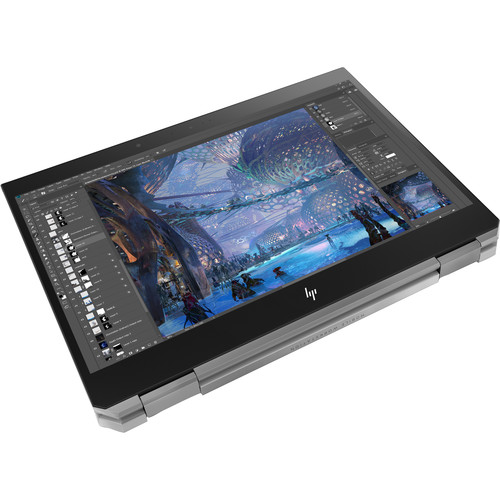 Up to 64GB Memory
While this system natively includes 32GB of 2666 MHz DDR4 RAM in a 2 x 16GB configuration, it can be upgraded to a maximum of 64GB when 32GB memory modules are used in each of the system's two 260-pin SO-DIMM slots

802.11ac Wi-Fi

The system uses Intel Dual Band Wireless-AC 9560 which is compatible with 802.11a/b/g/n/ac (2x2) Wi-Fi so that users may access network connectivity using wireless technology.

Bluetooth 5.0

Additional compatible peripherals, such as mice, keyboards, headsets, and more may be paired using Bluetooth 5.0 technology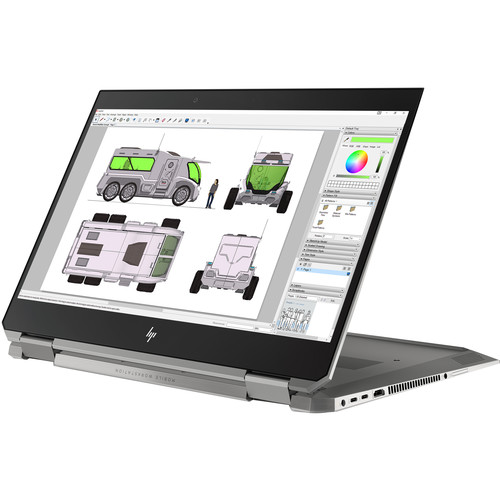 720p IR Camera

IR camera for face authentication with Windows Hello
HD format (widescreen)
Supports videoconferencing and still image capture
A high-quality fixed focus lens
Video capture at various resolutions up to 1280 x 720 (720p) and up to 30 fps
M-JPEG compression supports higher frame rates for video capture and videoconferencing
Improved low light sensitivity
Improved dynamic range
DisplayPort 1.3 Protocol Features Supported on Thunderbolt 3 Ports
Legacy displays (HDMI, DVI, and VGA) may be attached to the Thunderbolt port with the use of a certified dongle

DisplayPort monitors capable of supporting DisplayPort 1.3 may be directly attached to the Thunderbolt port to achieve HBR2 with the use of a dongle
Thunderbolt 3 monitors may be directly attached to the Thunderbolt port to achieve HBR2 and MST
DisplayPort 1.3 MST feature ("daisy-chain" feature) is supported through the Thunderbolt 3 port on Thunderbolt 3 devices or DisplayPort 1.3 monitors (requires monitor with DisplayPort 1.3 MST capability) with the use of a dongle
Up to 2 streams (eight lanes) of DisplayPort 1.3 are supported over a single Thunderbolt 3 port. Up to two 4K displays 24-/30-bit color depth at 60 Hz or one 5K display are supported over a single Thunderbolt 3 port. An Intel-certified Thunderbolt cable is required
DisplayPort 1.3 w/MST (Multi-stream Transport) supports resolutions up to Full 4K, 24-/30-bit color depth at 60 Hz, and WUXGA (1920 x 1200) monitors, 24-/30-bit color depth at 120 Hz
Multi-Display Support without the HP Thunderbolt Dock G2

The HP ZBook Studio x360 with hybrid graphics and without the use of the ZBook dock supports up to a maximum of three independent displays. These three displays are the internal panel plus two external displays connected to two of the three following ports: HDMI 2.0, Thunderbolt 3, and Thunderbolt 3. The HP ZBook Studio x360 configuration with integrated Intel graphics and without the use of the ZBook dock supports up to a maximum of three independent displays via any three-display combination of the system panel, HDMI, Thunderbolt 3, and Thunderbolt 3.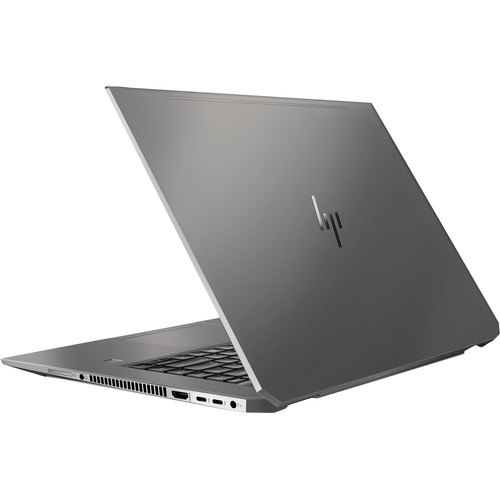 Multi-Display Support with the HP Thunderbolt Dock G2

The HP Thunderbolt Dock G2 has a Thunderbolt 3 port, a VGA port, two DisplayPort 1.3 ports, and a USB Type-C port. When used together with the HP ZBook Studio x360 configuration with hybrid graphics, a maximum of five independent displays are supported. These five displays are the internal panel and four external displays connected to the ZBook Dock's Thunderbolt 3, VGA, and two DisplayPort ports. When used together with the HP ZBook Studio x360 configuration with Intel integrated graphics, a maximum of 3 independent displays are supported via any three-display combination of the system panel, system ports, and ZBook Dock ports.
Specifications:
Operating System: Windows 10 Pro (64-Bit)
CPU: 2.3 GHz Intel Core i9-9880H 8-Core
Maximum Boost Speed: 4.8 GHz
L3 Cache: 16 MB
Memory Type: 2666 MHz DDR4
Total Installed Memory: 32 GB
Memory Configuration: 2 x 16 GB (User-Replaceable)
Maximum Memory Capacity: 64 GB
Memory Slot Type: 260-Pin SO-DIMM
Memory Slots: 2 (0 Available)
ECC Memory: No
Graphics Type: Dedicated
GPU: NVIDIA Quadro P2000 with 4 GB GDDR5 VRAM
Panel Type: IPS
Size: 15.6"
Aspect Ratio: 16:9
Resolution: 3840 x 2160
Touchscreen: Yes
Maximum Brightness: 400 cd/m2
Refresh Rate: 60 Hz
Contrast Ratio: 1200:1
Adaptive-Sync Technology: None
Viewing Angle (H x V): 170 x 170°
SSD Slots: 1 x M.2 2280 SATA / PCIe x4 (Available), 1 x M.2 2280 SATA / PCIe x4 (In Use)
Total Installed Capacity: 1 TB
Solid State Storage: 1 x 1 TB M.2 NVMe PCIe
Optical Drive: None
Ports: 2 x USB Type-A (USB 3.1 / USB 3.2 Gen 1)
USB Type-C Ports: 2 x Thunderbolt 3 (Supports DisplayPort)
Display: 1 x HDMI 2.0
Audio: 1 x 1/8" / 3.5 mm Headphone/Microphone Input/Output
Built-In Speakers: 2
Built-In Microphones: 2
Media Card Slots: 1 x SD/SDHC/SDXC
Ethernet: None
Wi-Fi: Wi-Fi 5 (802.11ac); Dual-Band (2.4 & 5 GHz)
MU-MIMO Support: 2 x 2
Bluetooth: 5.0
GPS: None
NFC: None
Webcam User-Facing: 720p
Battery Chemistry: Lithium-Ion Polymer (LiPo)
Capacity: Non-Removable 6-Cell: 95.6 Wh
Maximum Runtime: 16.6 Hours
Keyboard: 100-Key Notebook Keyboard with Backlight
Pointing Device: TouchPad
Security: Accepts 3rd Party Security Lock Devices, Fingerprint Reader, Facial Recognition
Power Supply: 150 W
AC Input Power: 100 to 240 VAC, 50 / 60 Hz
Operating Temperature: 32 to 95°F / 0 to 35°C
Operating Humidity: 10 to 90%
Packaging Info
Package Weight: 9.45 lb
Box Dimensions (LxWxH): 18.5 x 13.6 x 7.5"
Document version V.01  
Last update date: June 2nd ,2021 
OVERVIEW 
This policy identifies the outlines of the shipping rules or returning rules for goods via mail. These policies often cover details like costs, delivery times and dates, and what to do if the product is damaged on arrival. 
When do you ship? 
In order to clarify the expected delivery date for Newtech shipments, we have added the expected delivery date below each product.  
To make it easier for Newtech customers to know the date of the delivery, Not only that but Newtech customer service team contacts customers within 24 working hours from the date of the purchase to review the order and confirm the delivery date. 
Where do you ship to? 
Newtech ships products from 6 warehouses in separate areas, this is to facilitate the shipping and reduce the delivery time. Newtech delivers and covers all Saudi Arabia cities using professional carriers and logistics systems to track and trace the shipments. 
How do you ship? 
Most of our orders ship via a selected professional courier (DHL, ARAMEX, SMSA, ESNAD).  However, the shipping company is chosen through the Newtech operation team based on the product type and the product warehouse location also Newtech customer destination address, to allow us to select the best shipping solution and the fastest way. 
You can add your note in the comments box if you have a special instruction for our carries or you can inform Newtech customer service when they call to verify your address. 
Rates to ship? 
Newtech provides Free Shipping Service on all its products, except for special products that require special shipping costs. 
How to track an order that has been shipped? 
Newtech has designed a distinct page for its customers to be able to easily track their shipments and know the status of their orders.  
You can track the order by clicking on the Order Tracking page on the home page, you just need a simple verified information  
1. Your order ID and your email address  
You will receive the order ID once you place your order with the Newtech store, we will send it to you via email and also SMS this number starts with SA, you will also need your email registered with us during placing your order. 
Once you fill out the needed information, click on track to get your order and the shipment status.     
2. Tracking number 
This is the second option you can use to track your order, if you don't have your order ID or your email but you have the carrier tracking number, you will also be able to track your order to know the current status, add the tracking number only and click on track to get your order and the shipment status.     
Are the items in stock? 
All items are normally held in stock. However, we may sometimes run out due to sudden demand, in which case we will notify you within 24 hours from the order date, Newtech customer service will call to notify you about the delivery time and inform you of the date we expect to receive more stock. Or you can refund your payment within 2 hours if you are not satisfied with the new estimated delivery time. 
VAT, Customs and Duties for all orders shipping  
Newtech store confirms that there is no hidden cost, all shipping cost, VAT included in your paid price and we will not ask you for any additional payment when we deliver your product.  
Newtech takes great care that our customers should be aware of the real cost that will be paid during the purchase. 
You will find a clear notification, a message with a different color to show all the costs you should pay before your purchase.
Shipping Damages 
Newtech is always keen on packing methods and materials also we are careful to select professional carriers to avoid any possible damages to the shipment that may happen. However, there are some accidents that happen occasionally damaging the shipment or cause some scratches for the package packing. Rest assure we are responsible that the shipment arrives safely to you and any damages will happen we are responsible to replace the item for you. 
If you faced any damages, you should inform our CS or support team immediately or within a maximum of 24 hours from the delivery time. Otherwise, we will consider that you received your item with no issues. 
Return Shipment  
This paragraph linked with another policy (Return and refund policy), please check it to know when you can return or exchange your product. 
There are many reasons to return your shipment or to replace it, based on the return and refund policy, If the return is not related to a technical reason or a problem that has a relation to the product or its specifications, and that only the customer has changed his mind, then the cost of the return will be on the customer. 
You will need to communicate to the CS team or support team and they will be responsible to generate the return AWB and handle the return for you. 
Contacting Us 
If you have any questions about this shipping policy, the practices of this website, or your dealings with this website, please contact us using the following details: 
Full name: Technology Flame Establishment 
Email address: support@newtechstore.com 
Postal address: Muheet Street, Al Nadheem, Riyadh City, Saudi Arabia 
Telephone number:  920011980 
HP 15.6" ZBook Studio x360 G5 2-in-1 Mobile Workstation 32GB RAM 1TB SSD