The polished brass Real Living Assure Lock Touchscreen Deadbolt (Polished Brass) with Connected by August from Yale offers a secure alternative to the standard deadbolt lock. With this keyless deadbolt, you won't have to worry about lost keys or picked locks. Thanks to unique passcodes, you'll be able to assign entry access to family, friends, and guests. The backlit capacitive touchscreen keypad enables you and authorized users to unlock your door. One-touch locking allows you to lock this device with a simple tap. Two keys are included for those who prefer a traditional entry method. Four AA batteries are included for operation.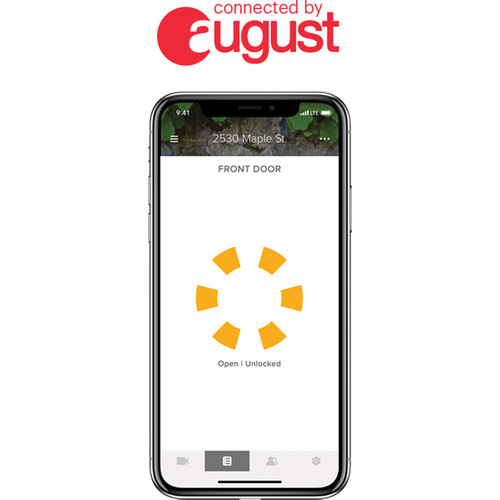 Bundled with the keyless lock is a Connected by August kit. The kit includes a Connected by August module, a Wi-Fi bridge, and the DoorSense sensor. The Wi-Fi bridge enables you to lock and unlock the keyless deadbolt from anywhere via the August app for iOS and Android. The DoorSense sensor lets you know whether your door is locked, unlocked, open, or closed. Alexa, Google Assistant, and Siri voice control are all supported by Connected by August.


Can be installed on a standard door in minutes with just a screwdriver
Seamlessly integrates with your home automation or alarm system via an optional Yale Network Module (available separately in Z-Wave Plus, Zigbee, and iM1 for HomeKit compatibility)
Up to 250 passcodes for access by keypad when used with a Yale Network Module (25 passcodes come standard without module)
August app for iOS and Android offers 24/7 access history to let you know who entered and exited your space
Connected by August is compatible with August doorbells
Connected by August enables you to give permanent access, temporary access, or set a unique access schedule
Voice control via Alexa, Google Assistant, and Siri
Compatible with Yale Assure app for iOS and Android
Backlit numbers that don't wear off
Voice guidance in three languages to walk you through setup and customized settings
Privacy button
Adjustable latch
Round corner latch front
Round corner strike front
Tamper-resistant battery cover
Weather protection gasket
Two keys included
Specifications:
Compatible Door Thickness: 1.75 to 2.25" / 44.5 x 57.2 mm, 1.4" / 35.6 mm Requires Thin Door Gasket
Door Specs

Backset: 2.4 or 2.75" / 61 or 70 mm
Face Bore Hole: 2.13" / 54 mm
Edge Bore Hole: 1" / 25.4 mm

Keypad: Backlit Capacitive Touchscreen
Cylinder: 5-Pin Cylinder
Keyway: KW-1 5 Pin
Keys Qty: 2
Batteries: 4 x AA (Included)
Certification: ANSI/BHMA A156.36, Grade 2
Dimensions: 1.3 x 2.7 x 6" / 33.9 x 69.2 x 154.4 mm
Weight: 7 lb / 3.2 kg
Packaging Info
Package Weight: 5.45 lb
Box Dimensions (LxWxH): 11.95 x 5.95 x 5.9"
Document version V.01  
Last update date: June 2nd ,2021 
OVERVIEW 
This policy identifies the outlines of the shipping rules or returning rules for goods via mail. These policies often cover details like costs, delivery times and dates, and what to do if the product is damaged on arrival. 
When do you ship? 
In order to clarify the expected delivery date for Newtech shipments, we have added the expected delivery date below each product.  
To make it easier for Newtech customers to know the date of the delivery, Not only that but Newtech customer service team contacts customers within 24 working hours from the date of the purchase to review the order and confirm the delivery date. 
Where do you ship to? 
Newtech ships products from 6 warehouses in separate areas, this is to facilitate the shipping and reduce the delivery time. Newtech delivers and covers all Saudi Arabia cities using professional carriers and logistics systems to track and trace the shipments. 
How do you ship? 
Most of our orders ship via a selected professional courier (DHL, ARAMEX, SMSA, ESNAD).  However, the shipping company is chosen through the Newtech operation team based on the product type and the product warehouse location also Newtech customer destination address, to allow us to select the best shipping solution and the fastest way. 
You can add your note in the comments box if you have a special instruction for our carries or you can inform Newtech customer service when they call to verify your address. 
Rates to ship? 
Newtech provides Free Shipping Service on all its products, except for special products that require special shipping costs. 
How to track an order that has been shipped? 
Newtech has designed a distinct page for its customers to be able to easily track their shipments and know the status of their orders.  
You can track the order by clicking on the Order Tracking page on the home page, you just need a simple verified information  
1. Your order ID and your email address  
You will receive the order ID once you place your order with the Newtech store, we will send it to you via email and also SMS this number starts with SA, you will also need your email registered with us during placing your order. 
Once you fill out the needed information, click on track to get your order and the shipment status.     
2. Tracking number 
This is the second option you can use to track your order, if you don't have your order ID or your email but you have the carrier tracking number, you will also be able to track your order to know the current status, add the tracking number only and click on track to get your order and the shipment status.     
Are the items in stock? 
All items are normally held in stock. However, we may sometimes run out due to sudden demand, in which case we will notify you within 24 hours from the order date, Newtech customer service will call to notify you about the delivery time and inform you of the date we expect to receive more stock. Or you can refund your payment within 2 hours if you are not satisfied with the new estimated delivery time. 
VAT, Customs and Duties for all orders shipping  
Newtech store confirms that there is no hidden cost, all shipping cost, VAT included in your paid price and we will not ask you for any additional payment when we deliver your product.  
Newtech takes great care that our customers should be aware of the real cost that will be paid during the purchase. 
You will find a clear notification, a message with a different color to show all the costs you should pay before your purchase.
Shipping Damages 
Newtech is always keen on packing methods and materials also we are careful to select professional carriers to avoid any possible damages to the shipment that may happen. However, there are some accidents that happen occasionally damaging the shipment or cause some scratches for the package packing. Rest assure we are responsible that the shipment arrives safely to you and any damages will happen we are responsible to replace the item for you. 
If you faced any damages, you should inform our CS or support team immediately or within a maximum of 24 hours from the delivery time. Otherwise, we will consider that you received your item with no issues. 
Return Shipment  
This paragraph linked with another policy (Return and refund policy), please check it to know when you can return or exchange your product. 
There are many reasons to return your shipment or to replace it, based on the return and refund policy, If the return is not related to a technical reason or a problem that has a relation to the product or its specifications, and that only the customer has changed his mind, then the cost of the return will be on the customer. 
You will need to communicate to the CS team or support team and they will be responsible to generate the return AWB and handle the return for you. 
Contacting Us 
If you have any questions about this shipping policy, the practices of this website, or your dealings with this website, please contact us using the following details: 
Full name: Technology Flame Establishment 
Email address: support@newtechstore.com 
Postal address: Muheet Street, Al Nadheem, Riyadh City, Saudi Arabia 
Telephone number:  920011980 
Yale Real Living Assure Lock Touchscreen Deadbolt (Satin Nickel) with Connected by August